About Jenni
|
BLOG
|
Charleston Community Links
Charleston Area Community Links
One crucial element of well be-ing is to have a strong sense of community. Here are a few ways that we can nurture community in the Charleston, SC area. Please email Jenni if you have suggestions for other ways to foster well be-ing through community here!
Join a Reiki Share!
Our Reiki Shares are on hold for right now, but please check back regularly!
Join a Kirtan!
Kirtan, put simply, is call and response chanting, traditionally in the ancient Indian language of Sanskrit. It began as a religious Hindu practice, but is commonly practiced in the US and around the world by people of all different religious and spiritual beliefs. It is a practice of love, and of joining together to show love to one another and to all that is.
Kirtan is usually accompanied by musicians, some in traditional Indian instruments and others with modern Western instruments like guitars. Or, kirtan can be more simple - my very first kirtan was a small group in someone's living room, with one person playing a small hand drum.
To find kirtan in Charleston, visit www.OneCharleston.com or check with your local yoga studio.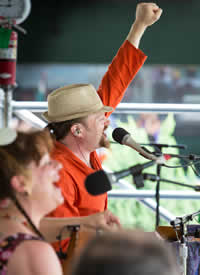 More great kirtan links:
Sean Johnson & the Wild Lotus Band - Sean, Gwendolyn, and Alvin weave New Orleans funk into traditional Sanskrit mantras, and many other creative and playful chants. Based in New Orleans, they visit the Carolinas once or twice per year during their US tour. All three are incredibly talented musicians, and samples of some of their chants are available on their website.
Sean and the gang will be appearing in Charleston on August 19th, 2016, at Holy Cow Yoga!
Join a Tapping Circle!
What's that? Tapping, or EFT (Emotional Freedom Technique) is a remarkable healing technology which realigns the body's energy system, so that pain and painful emotions fall away. Use it for pain, weight loss, business & personal goals, phobias, relationships, etc.
Meditate~
Jenni is forming a monthly group meditation to take place in her Ladson (Charleston area), SC studio that may grow to twice or more per month based on need and availability. Please email Jenni if you are interested, including a phone number so she may call you. Or, sign up for Jenni's newsletters to keep up with the latest happenings!
Other Healing
Several other healing modalities complement the healing work that Jenni does. Here are a few that Jenni has personally worked with, and recommends (these can be done in person or from a distance, too!):
Psychic Surgery: Porsha practices Psychic Surgery along with several other healing modalities. Check our her website for more information:
www.PsychicSurgeons.com
Past Life Regression
Past Life Regression appointments are available NOW - schedule your session! The sessions are conducted at 7pm in my NEW private Ladson studio adjacent to my home near I-26, close to Goose Creek, North Charleston, and Summerville. I require payment in advance to reserve your appointment. Please understand that I have a busy schedule, and if you have to cancel I may not be able to fill your slot after I've held that date for you, which is why I cannot refund your payment.
To make an appointment, or for any questions, email Jenni by clicking here. Please let me know what dates might be good for you and I will fit you in as soon as I am able, and include a phone number so that I can call you to discuss any questions you have. I will supply my address upon receipt of your payment.