Other Products: "Dimensions" (PDF book download) | Guided Audio Meditation Downloads
Natural Personal Care Products
Featuring Organic, Therapeutic-Grade Essential Oils

These products were inspired by the sister of my heart, Rachel Pardieck Hazelwood, who passed December 2, 2015. A few of them were her own recipes, and the rest are inspired by her love of using essential oils and all natural products, avoiding chemicals in everyday life. I feel that she would want others to enjoy the items that she lovingly made, as well as others inspired by her passion.
They are all hand made by me personally, so no two are 100% identical. I am happy to accept custom orders; please let me know if there is a particular essential oil blend that you love! I use exclusively Young Living brand essential oils (member ID# 3431957) because they are the purest available. Rachel had the most accurate nose of any human being I've ever met, and she could tell what high grade oils these were by simply sniffing them. I did further research, and was impressed by what I've read.
Please note that I do not have a store front, these are made by hand in my kitchen in very small batches! Large orders may take extra time to prepare, especially if I have to replenish ingredients. Orders may be mailed via USPS (please contact me with your zip code and items interested in for rates) or may be picked up by appointment at my home in Ladson (College Park), SC.

Natural Glycerin Soaps with Therapeutic-Grade Essential Oils: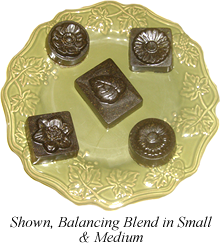 All of my soaps are glycerin based and chemical free. The only additives are organic dried flowers and herbs, and therapeutic-grade essential oils. Use these soaps in the bath/shower, on a pretty dish to wash your hands in the bathroom and kitchen, or anywhere else that you'd use soap! Base pricing includes most varieties, additional fee for premium blends.
Small and Medium sizes are shown at right on a standard size dinner plate (medium in center). Also available in the medium size is a round soap with a chakra design on top (any of the upper four chakras available).
Large size is a plain rectangular bar, flat on the bottom and curved on top. Another large size is available by request which is also rectangular but has a rabbit design at the top! Please specify if you would like this one.
Large; app. 5 oz, $12 each
Medium; app. 4 oz, $10 each
Small; app 3 oz, $8 each
Please note in the message section which variety you'd like; if you do not specify, I will choose for you!:
Soothing blend of Lavender & Lemon, with dried lavender flowers (ground unless you specify you'd like the flowers whole).
Uplifting blend of Peppermint & Tangerine, with dried mint leaves
Cheering blend of Tangerine, Lavender, Lemon, and a hint of Peppermint with dried Lavender flowers and Mint leaves (lavender flowers are ground unless you specify you'd like the flowers whole)
Astringent/Analgesic blend of Lemongrass & Copaiba with dried Lemongrass
Premium soap blends are available for an additional $3.00/bar:
Balancing blend of Tangerine, Grapefruit, Lemon, Bergamot, and Sandalwood along with Sandalwood Powder and ground Apricot Seeds
Relax blend with Chamomile, Valerian, and Lavender with dried Chamomile and dried Lavender flowers (ground unless you specify you'd like the flowers whole).
Stress-Away blend of Copaiba, Lime, Cedarwood, Vanilla, Ocotea, and Lavender with dried Lavender flowers (ground unless you specify you'd like the flowers whole).
Soothing Valor blend of

Capric Triglycerides

with Black spruce, Rosewood, Blue Tansy, and Frankincense oils with ground dried Rose Hips
Rachel's Famous Lotion
(this is a thick cream, but Rachel loved to call it lotion!)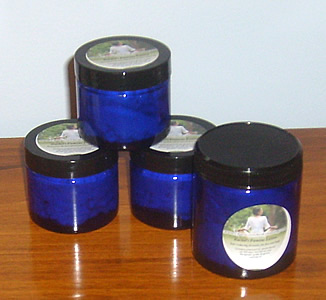 My lotion contains grapeseed oil, either apricot kernel oil OR jojoba oil, beeswax, water, and natural additives as specified below. Available in 2oz or 4oz glass jars. This is a thick cream and you need very little for each application. Perfect for chapped winter hands, softening feet at the end of summer, or any other dry skin issue. Please specify your choice in the message section during checkout, or one will be chosen for you. Custom orders also available!
Please note that some separation is normal as my lotion does not contain chemicals. You may occasionally see a small amount of water on the lotion's surface, and when you do, simply pour the excess water out into the sink. Nothing is wrong with your lotion, this is natural! Lotion also does not contain any preservatives and will begin to smell "off" if not used in several months to a year.
Save your empty jars, and receive a discount on your next order if you turn it in! (Any re-used jars are fully sterilized first).
Rachel's Scar Reducing Lotion - also contains rose hip oil and tangerine oil
Relaxing Lotion - also contains lavender and lemon oils
Balancing Lotion - also contains tangerine and frankincense oils
Invigorating Lotion - also contains peppermint oil
Gentle Deodorant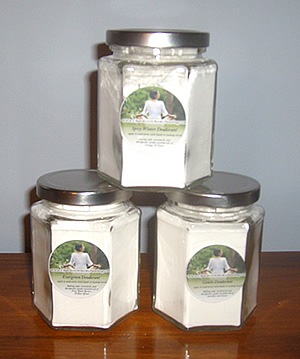 My natural, gentle deodorant is specially formulated for sensitive skin, and for those who wish to avoid chemicals and the possible harmful effects of regular store-bought deodorants. Cornstarch and baking soda absorb odors while killing bacteria and reducing acidity of the skin. Therapeutic-grade essential oils add a gentle fragrance of your choice (please specify choice in the message field upon checkout, or one will be chosen for you). All deodorants come in decorative 9 oz. jars, and may be applied with your hands or with a large makeup brush (brush not included). Custom orders welcomed!
Feminine Gentle Floral - Lavender & Lemon

Spicy Winter - Orange & Clove

Masculine Evergreen - Pine, Black Spruce, & Blue Spruce

Fresh Scent - Rosemary & Lemon
*Balancing - Tangerine, Bergamot, & Sandalwood
*Balancing blend is a higher price point because of the high cost of sandalwood.
It's my favorite, but I have to charge extra for this reason!
Relaxing Bath Salts
Run a tub of steaming hot water. Light a candle or two if you desire, and dim the lights. Add a pinch or more of my relaxing bath salts and let your troubles slip away!
Bath salts come in 9 oz. jars, and contain Epsom salts (not recommended for diabetics and some other health issues, please consult a medical professional before use if you have any possible doubts), sea salt, baking soda for skin softening, and other ingredients as listed below:
Balancing Blend - contains ground rose hips and therapeutic-grade essential oils of tangerine, lavender, lemon, and peppermint. Excellent for lifting mood while relaxing as this combination helps to balance the hemispheres of the brain!

Invigorating Blend - contains ground dried peppermint and therapeutic-grade essential oils of rosemary and lemon. Perfect when you need an energy boost in a much more soothing method than caffeine!
Spicy Winter Blend - contains ground cinnamon and therapeutic-grade essential oils of orange and clove. The scent carries you back to old-fashioned winters when life was simpler, while the clove oil helps to heal skin lesions, and the orange oil relieves anxiety, acts as a natural anti-depressant. Both oils together act as natural anti-bacterial, anti-viral, and anti-fungal.
Lemongrass Sugar Scrub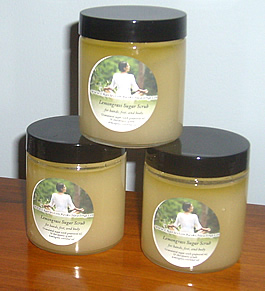 Sugar scrub is excellent for sloughing off dead skin from your hands, feet, or other areas of your body! The texture of the sugar exfoliates without the harshness of salt as in many scrubs. Grapeseed oil softens and helps to heal the newly emerging skin layer underneath, while therapeutic-grade lemongrass essential oil provides a clean, fresh scent while also killing bacteria, viruses, or fungus. I am also happy to substitute a different essential oil upon request (pricing may vary depending upon oil requested).
The scrub comes in a 4 oz. jar, and only very small amounts need to be used at a time. I recommend using a tiny spoon or a popsicle stick to remove from jar. After you've scrubbed the desired area, you may choose to rinse only and then allow the oil to soak into your skin for a longer period of time, or wash with soap right away - some of the softening benefits will have already taken place!
Natural Lip Balm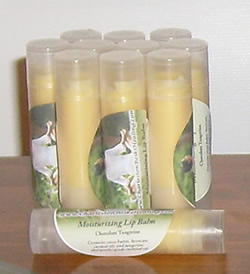 Jenni's lip balm is made from organic beeswax, coconut oil, and cocoa butter, along with therapeutic-grade essential oils. Smells heavenly and so softening! Most commercial brands have an addictive effect, which actually causes - over time - for your lips to chap more easily. This is all natural with none of the harmful effects those have! Comes in standard twist-up tubes for ease of use.
Tangerine Chocolate - contains tangerine oil, smells heavenly!
Peppermint Chocolate - contains peppermint oil, invigorating and refreshing!
Thieves' and Chocolate - Thieves' Blend contains Clove, Lemon, Cinnamon, Eucalyptus, and Rosemary essential oils. This combination is excellent for preventing or fighting colds and flus!
***Please note that these products and their descriptions are not intended as medical advice.
Never use a product that may go against the advice of your physician.
If you have any questions or concerns as to the safety of one of my products because of any medical condition, please consult a physician before use.
Products
Natural Glycerin Soaps with Therapeutic-Grade Essential Oils: